Project in NBC Universal
In 2011, AreaBroadcast carried out the upgrade and implementation of editing and post-production systems for two NBC Universal channels: Calle 13 and SciFi.
Universal had an Avid Media Composer Adrenaline editing system connected to a SAN Terrablock and a graphics system. This editing system has been upgraded to Media Composer Nitris DX running under HP Z400, adding a second room also with MC Nitris DX with a Z800 CPU. The Terrablock has been replaced by a 16Tb Avid Unity shared storage unit, that these two systems, plus a Protools audio editing system, connect to via Fibre Channel. Two graphics systems have also been installed with the Adobe package. One with Macpro and a Cinema Display and the other using the Windows environment to take advantage of the CPU and monitors from one of the updated editing rooms.
In addition, AreaBroadcast designed a Gigabit Ethernet network between all devices for file transfers using the Terrablock SAN removed from production.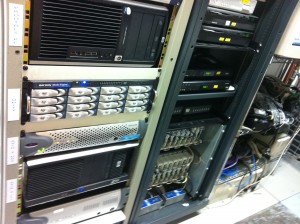 AreaCad, an Area Group company, has developed all of the engineering and installation, not only the rooms but also the racks containing not only the systems described above, but also one with SD and HD video recorders and an audio/video Patch Panel.
During the second phase, carried out this past January, the Windowa environment graphics room has been updated with Macpro and all monitors have been replaced with HD.